Never Lose Sleep Over IBS Anxiety Again

You're just seconds away from all the training, proven programs, and resources you need to relieve IBS. Plus the support and wisdom of a network of people who know what you're going through.
If you were wishing for a secret weapon to tackle IBS, your search is over.
Tell me if any of these sound familiar...
You stress over travel (which should be fun) or long car rides where bathroom access is limited

Your food choices seem so restricted that eating isn't fun anymore

You feel alone because friends don't seem to understand (or even get annoyed by your food restrictions)

You wonder whether your new partner will still like you after he sees you have an IBS flare up

You feel anxious about social gatherings because you only feel safe eating at home
If it does, then you already know how overwhelming it is to deal with IBS without reliable information or support.
Imagine if you could learn from the experiences and stories of people who've been in your shoes and share your goals.
That's what inspired me to create this community.
Introducing Calm Belly Club…
Calm Belly Club is the online community and support network for FODMAPers and people with IBS.
It's the virtual headquarters for your calm belly lifestyle.
Calm Belly Club is packed with every resource I've ever created including my comprehensive, proven programs to guide you through the three phases of the FODMAP Diet…
…plus the support to help you achieve the calm belly you want and the peace of mind you need.
When I first learned about the FODMAP Diet at a routine check-up, I was elated. Then I did some research and was completely overwhelmed. I wasted precious time dragging my feet because I couldn't find enough reliable information...or tasty recipes.
That's why I started Calm Belly Kitchen in 2015, and I've been trying to simplify the process of getting in control of your IBS ever since.
As I worked with fellow IBS sufferers 1-on-1 and in small groups, I created step-by-step methods and guides to not only relieve inconvenient, unpredictable symptoms, but to help my clients get back to fully enjoying life (and food!) long term.
I took these proven systems and created D.I.Y programs to help you get back to living the life you love without worry or pain. Many people have gotten fantastic results from these programs already!
But I knew I could do even better...
I knew that if we could connect people living the calm belly lifestyle together, they could support each other, trade notes about what's working, and find new solutions to old problems much faster than before!
That's what Calm Belly Club is all about.

Calm Belly Club will help you to:
Eliminate the guesswork and stop throwing things at the wall hoping something sticks by giving you in-depth guides to follow

Create TASTY and flexible low-FODMAP meals with our Quickstart Meal Guide - No more living off the same 10 "safe" foods

Finish the restrictive FODMAP elimination phase more quickly because you're not falling victim to common pitfalls that online advice--and most experts--tend to gloss over

Tap into the collective knowledge & experience of a community of people with a shared goal who are there to support each other

Identify your unique IBS triggers so you can stop stressing over every bite and ONLY avoid the foods that cause your symptoms

Create your personal long-term eating style that keeps your belly calm and lets you enjoy all the fun, food-filled moments in life
There are 4 key ways we support you in Calm Belly Club:
Comprehensive FODMAP Diet programs

Monthly video Q&As

Monthly themes to help with various aspects of your calm belly lifestyle

A support network of peers all on their personal health journeys, sharing a common goal
Plus, personal support from me!
Look, I am absolutely convinced that the collective wisdom of our entire community is THE thing that will help you achieve your goals…
…but I want you to know that I'll be there cheering you on and sharing what I've learned from helping hundreds of IBS sufferers. You can even chat me up through the private message option--I'm obsessed with your success.
All Calm Belly Club Members Get Access To:
Calm Belly Quickstart: Our Complete Guide to the FODMAP Elimination Phase
Quickstart Meal Plan - Easy, flexible recipes (vegetarian-friendly), PLUS a mix 'n match guide for make-ahead lunches, and list of 50+ snack ideas

Label-Reading Cheat Sheet with ingredients to avoid

Symptom Decoder Checklist & Cheat Sheet to determine what's REALLY causing trouble

Menu Templates to help you design nutritious low-FODMAP menus

Eating Out Cheat Sheet with ordering tips and suggestions

Fresh Produce Portion Guide so you always know the correct serving sizes and what foods to combine

"Go-To Meals" Worksheet to help you generate new ideas tailored to YOUR tastes

Short video tutorials on topics like eating out and how to check ingredient labels the smart way

"Calm Belly Self-Assessment" - Our exclusive interactive questionnaire to help you evaluate your progress and determine your next steps
Value of the Quickstart Program = $99
Free To Eat: Our Complete Guide to the FODMAP Challenge & Maintenance Phases
The Roadmap: Your highly flexible, customizable reintroduction plan so you know exactly what foods to test, portion sizes, and how long to wait in between

Complete guide to the FODMAP challenge process with clear instructions and examples

Foodie Inspiration: Serving ideas and simple recipes for the primary test foods to make the process more delicious

Food & Symptom Tracker: Printable Workbook

DIY Food Trigger Report: Printable worksheet to gather all your testing results

Guide to Creating Your Lifetime Eating Style: Two printable workbooks to help you apply your food testing results to your real life so you can be free to eat without IBS anxiety. To my knowledge, no other resource like this is available anywhere else!
Value of the Free To Eat Program = $79
Live Monthly Q&As
Interactive live question and answer sessions every month with Julie.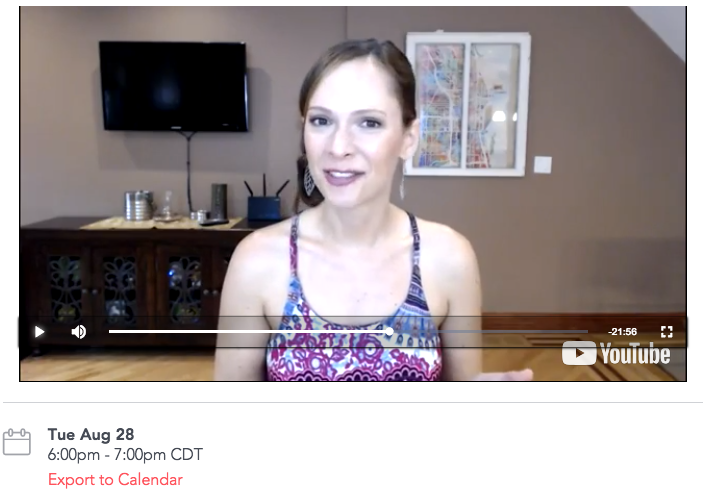 Need help or fresh ideas tailored to your specific situation? We hold a live monthly video call where you can get individualized support from me and your fellow members.
Plus you can get answers to questions 24/7 inside our members-only community!
Monthly Themes
With trainings, challenges, and resources to help with ALL aspects of your calm belly lifestyle. We'll dive deep on topics like:
Meal planning and nutrition

Cooking and modifying recipes

Managing Stress

Creating a calm belly fitness routine
Our Private Members-Only Community
Calm Belly Club has no advertisements and no spam.
It's a private online home just for us. That means no political rants from Uncle Steve and no worrying that your co-workers will see your posts about bloating.
When you're in Calm Belly Club there's nothing distracting you from making progress on your personal health goals.
All of this and more inside Calm Belly Club!
Get Instant Access to Calm Belly Club!
Join now to get the support and know-how you need to succeed.
$12.99
Per Month
Recurring payment - Cancel anytime in just a few clicks of your mouse
Hassle-free 2-week money back guarantee
PLUS Two Special Workshop Bonuses!
#1 IBS Travel Kit [PDF] - Menus for air travel days and road trips, plus the "In-Flight Must-Haves" Checklist
#2 IBS Emergency Kit [PDF] - 3-day belly-soothing menu to help you bounce back FAST if symptoms pop up
These bonuses are here for a limited time for workshop attendees.
They disappear on October 29th!
Absolutely No Risk to Join - My 100% Satisfaction Promise To You
If you're not totally happy with Calm Belly Club, I'll gladly give you a full refund up to 2 weeks after you join, no questions asked. Simply email support@calmbellykitchen.com with your refund request.
I'm offering this guarantee because I want you to be as excited about this journey as I am, and I know that as a member of Calm Belly Club you will have your secret weapon that finally helps you take control of IBS.
What Happens When You Purchase:
When you click the "Join Now" button, you'll be taken to our secure payment portal where you'll enter your name and create a password.

Next you'll enter your payment details. We accept all major credit cards and payment is processed securely through Stripe, the leading online payment processor. Your credit card data is encrypted by Stripe, so no one on our end will ever see it. Your recurring membership payment will be processed automatically every 30 days unless you cancel your membership.

Once your payment is complete, you instantly have access to everything inside Calm Belly Club! You'll be asked if you'd like to follow certain topics within the community (you can also opt to follow posts from me).

Within a few minutes, you'll receive an email confirming your payment and an automated welcome email. You'll also receive a special welcome message from me with some info to get started AND your special launch bonuses.
Want a sneak peek inside Calm Belly Club? Take the 2-minute tour!
Get Instant Access to Calm Belly Club!
Join for instant access to all the programs, resources and support you need to stop IBS from controlling your life.
$12.99
Per Month
Recurring payment - Cancel anytime in just a few clicks of your mouse
Hassle-free 2-week money back guarantee
The special workshop bonuses expire on October 29th!
Frequently Asked Questions:
1) What if I have other dietary restrictions besides low-FODMAP?
You can do our programs (and the FODMAP Diet) even if you have other food sensitivities, allergies or restrictions that you need to follow. The Quickstart Meal Plan is flexible--it's even suitable for vegetarians--and the Calm Belly Method encourages you to do what works for you, not follow a one-size-fits-all plan (because one-size-fits-all doesn't work for digestive issues!).
2) I don't have IBS, but I want to do the FODMAP Diet...Is Calm Belly Club for me?
Absolutely! The majority of research on the benefits of the FODMAP Diet is in relation to IBS, so your body may respond differently than the typical IBS sufferer. However, if your doctor recommended it for another condition (common ones are Crohn's, SIBO, colitis, GERD, as well as post-surgery), then joining Calm Belly Club is the perfect place to go for knowledge, resources, and support.
3) Does Calm Belly Club include a meal plan?
Yes! And our Quickstart Meal Guide was designed to give you easy mix 'n match meal ideas that are flexible for a variety of dietary needs and preferences. It's meant for cooks and non cooks alike so that everyone can get started on a low-FODMAP plan ASAP.
4) I don't know if I can ever do the Challenge phase because I still get IBS symptoms...Does that mean I shouldn't test FODMAPs yet?
You CAN do the Challenge Phase if you still experience IBS symptoms. Many people don't see their IBS disappear completely in the Elimination Phase and that's okay. One key goal of the Elimination Phase is to learn what your maximum level of symptom relief is on a very restricted low-FODMAP Diet. You may still experience symptoms, but you should have a big improvement compared to the time BEFORE going low-FODMAP. In the Challenge Phase, you learn what foods you can add back and still maintain a comfortable level of symptom relief.
5) I don't think I have time to be part of another social network...How much time should I invest in Calm Belly Club each week?
While Calm Belly Club is definitely social, it doesn't fall into the same category as traditional social networks like Facebook. While the main focus of those other networks is being social, the main focus of Calm Belly Club is working together to reach our common goals. You can dip in and dip out whenever you need a resource, information, feedback, inspiration, or a fresh point of view. You can benefit from spending 30 minutes a week in Calm Belly Club just as easily as you could from spending 30 minutes a day.
6) Does Calm Belly Club include personal coaching?
I'm in the community daily, and you can send me a private message anytime. This is a great option if you have a personal question or concern. However, there isn't a formalized way to get private, 1-1 coaching with me.
7) Are you a dietitian?
No, I'm a health coach. My role is to give you a clear path to reach your goals, along with the advice, tools, and motivation to get you there as smoothly as possible. My programs are not intended to replace consultation with a medical professional. I can guide you through the FODMAP diet, but I can't diagnose your underlying medical issues.
8) Can I cancel my membership anytime?
Absolutely! If Calm Belly Club is no longer the right fit, you can cancel your membership by going to Your Settings > Subscription. No need to email us, you have full control of your membership.
9) Do you offer refunds?
Yes! I offer a hassle-free, full money back guarantee up to 2 weeks after you join Calm Belly Club. Just request a refund by emailing support@calmbellykitchen.com or sending me a private message in the community. I'm offering this guarantee because I want you to be as excited about this journey as I am, and I know Calm Belly Club will help you move forward like nothing you've done before.
Get Instant Access to Calm Belly Club!
Join now and get the support and know-how you need.
$12.99
Per Month
Recurring payment - Cancel anytime in just a few clicks of your mouse
Hassle-free 2-week money back guarantee
The special workshop bonuses expire on October 29th!
Legal Disclaimers:
The role of Calm Belly Club ("the membership") and all resources and information it includes is not to prescribe or assess micro- and macronutrient levels; provide health care, medical or nutrition therapy services; or to diagnose, treat or cure any disease, condition or other physical or mental ailment of the human body.

You understand that the membership is not acting in the capacity of a doctor, licensed dietitian-nutritionist, psychologist or other licensed or registered professional, and that any advice given is not meant to take the place of advice by these professionals. If you are under the care of a healthcare professional or currently uses prescription medications, you should discuss any dietary changes or potential dietary supplements use with your doctor.

You acknowledge that you take full responsibility for your well-being, as well as the lives and well-being of your family and children (where applicable), and all decisions made during and after using the membership.

The membership does not guarantee any particular results that may be obtained from the use of the membership, including any information or content obtained as a result of using the membership will be effective, reliable, accurate, or meet your requirements.

You expressly assume the risks of using the membership, including the risks of trying new foods or supplements, and the risks inherent in making lifestyle changes. You release Julie O'Hara Creative, LLC from any and all liability, damages, causes of action, allegations, suits, sums of money, claims and demands whatsoever, in law or equity, which you ever had, now has or will have in the future against Us, arising from your past or future participation in, or otherwise with respect to the membership.